Music for White Cube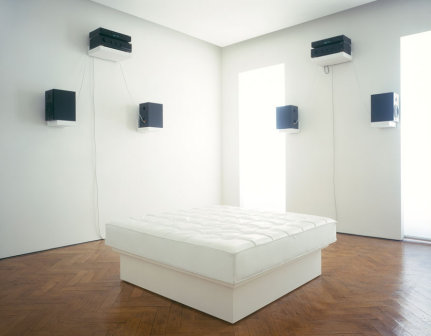 Installation view of Brian Eno's Music for White Cube (1997), White Cube Duke Street, St. James's, London
© Brian Eno, Photo: Stephen White, Courtesy White Cube
---
The music press liked to mock Brian Eno as a non-musician. His role in the band Roxy Music was reduced to that of performer in a transgender outfit and operator of electronic equipment. In actual fact, Eno had developed an interest in experimental music during his years at art school. At Winchester Art School he founded a band called Merchant Taylor's Simultaneous Cabinet that performed its own material as well as works by contemporary composers and artists (e.g., Christian Wolff and George Brecht). In 1971, he joined the group Roxy Music, who were particularly concerned with presenting an eccentric appearance. The influence of Andy Warhol's Factory and The Velvet Underground were evident here. In 1973, Eno left the band, began to release solo albums, and started his own record label: Obscure Records.
Eno's invention of ambient music was a pivotal moment in the development of pop music. It introduced a new, spatial audio experience that has lost none of its significance today. In 1978, Eno released an album with the title Ambient Music I featuring the manifest like text Ambient Music. Here, he described how he wished to expand commercial Muzak as an atmosphere and environment and to fill it with new content.
In 1997 (April 25 – May 31), Eno produced a sound installation for the London project space White Cube. The artist took the quadratic floor area of this small but prestigious exhibition space as the starting point for a quadratic interior design. All the components of the musical equipment were white. In the center was a white area for lying down, which enabled a pleasant listening experience. The playback apparatus, amplifiers, and loudspeakers were affixed to the walls in such a manner that they looked like white sculptures. The setting was reminiscent of a futuristic meditation room. The space's minimalistic design was significantly different to the conventional chill-out lounges in techno clubs. The calm ambient music that could be heard in the installation was released under the title Extracts from Music for White Cube, London 1997 on the Opal label.
---
---
Print Text

---
Workdetails
original Title:

Music for White Cube

Date:

25.4.1997 – 31.5.1997

Genre: Sound installation
---
This work is issued in following texts
---