An Idyl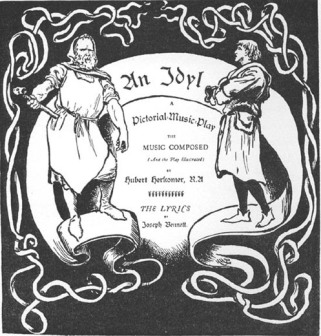 Title Page from An Idyl (1883-89) from Hubert von Herkomer
Scan by George P. Landow
Quelle: http://www.victorianweb.org/art/illustration/herkomer/7.html
---
The stage composition An Idyl was premiered in 1889 at Hubert von Herkomer's private art school in Bushey, near London. The point of departure for An Idyl was von Herkomer's oil painting After the Toil of the Day, from which he subsequently worked out a series of prints. From these he developed a multipart musical work for the stage, which presented the artistic form three-dimensionally and with a plot accompanied by music. Von Herkomer saw the stage as an extension of his canvas that offered him a much large arsenal of artistic means than any other form of expression could: my whole efforts in stage work have been to realise a painter's view of nature, and that to the fullest.[1]
Neither performance materials for, nor a score of An Idyl have survived. The work is documented only in an essay by von Herkomer[2] and in a detailed report by his student Alice Corkran.[3] According to these sources, An Idyl begins with an exact translation of the subject matter of the original painting. Little children are playing on a narrow, bumpy village street framed by steep half-timber buildings. Evening is coming, and the sun is slowly setting; two smiths are pounding on an anvil, setting the basic rhythm for a female chorus. The scene becomes increasingly lively; an old man appears and begins to tell a story; the children form a circle and appear to be listening to him. From that develops a "simple story" (von Herkomer): The smith's beautiful daughter is being wooed by a count, but she resists temptation and decides in favor of the simple worker to whom she is engaged.
The crucial innovation in this new work for the stage was the conception of musical theater as a primarily visual process. An Idyl has no narrative dramaturgy; instead the plot is developed from visual and acoustic processes. Lighting, pantomime, and sounds become the central means for representing the scene. Von Herkomer attributed to lighting, in particular, a decisive role in the creation of the perfect illusion he sought: through the management of lights, the strangest deception can be practised upon our visual organs … . The real secret of perfect scenic art lies in illusion—in deception—in not allowing the eye of the spectator to see the means whereby the semblance of reality is obtained.[4]
---
---
---
Print Text

---
Workdetails
original Title:

An Idyl

Date:

1883 – 1889

Genre: stage play
---
This work is issued in following texts