Lumia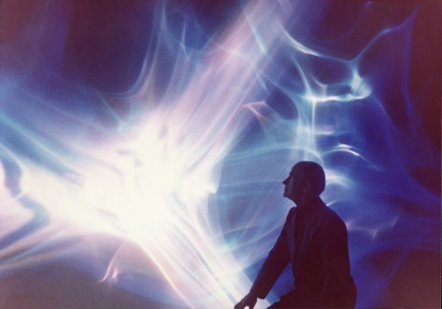 Thomas Wilfred with Lumia projection (c. 1910-1960)
Courtesy Manuscripts & Archives, Yale University
---
The Dane Thomas Wilfred (whose common name was Richard Edgar Løvstrom, 1889–1968) was initially active as a lutenist and lute singer. He settled in the United States in 1916, and in 1919 he began devoting himself to his silent and abstract light art Lumia, with which he had first experimented back in 1905. In 1922, he ended his career as a musician and devoted the rest of his life exclusively to his light art at the Art Institute of Light in New York, which he founded in 1930.
Wilfred regarded light as "the silent universal expression of the greatest force our senses can grasp." In the same way music developed out of silence, light art developed out of darkness. And exactly like music, Lumia required an interpreter, making each performance a unique event.
In contrast to color-sound theories or analogy models, Wilfred created a light art based on form, color, and movement, with form and movement as the decisive elements. Beginning in 1919, he produced several models of a control and projection instrument with the name Clavilux. The penultimate model G was manufactured in 1937 and had four separate optical systems as well as a connected control panel (ill. 1). Wilfred used this model in his demonstrations of the instrument until 1947. At the same time, he developed Luminars, small programmed models that were fully automated and were designed for private households as Home Clavilux Models, in part with built-in screens that resembled television sets.
Wilfred created Lumia compositions specifically tailored to his instruments, however, only about 35 have survived. Like a musical suite, the Lumia Suite op. 158 (1964) is comprised of several movements. Here there are three: the first is dominated by a horizontal, the second by a vertical, and the third by an elliptic movement. Other references to music only exist in titles such as Suite or in the opus numbers. The lengths of his works range from five minutes (Tranquil Study op. 92, 1935) to 22 months in Untitled op. 161 (1966), his penultimate composition, which often is regarded as his aesthetically most successful work (see illustration).
---
---
Print Text

---
---
Other Works belonging to this Work
---
---
This work is issued in following texts