242.Pilots: Live in Bruxelles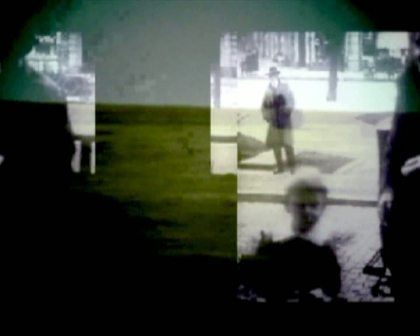 Stills from Live in Bruxelles by 242.pilots
© HC Gilje, Kurt Ralske and Lukasz Lysakowski, courtesy the artists

---
242.pilots (HC Gilje from Norway, Lukasz Lysakowski from Poland, and Kurt Ralske from the United States) became well known as live cinema artists early on in the 2000s, releasing a DVD entitled 242.Pilots: Live in Bruxelles in 2002. Their shows and DVD feature members of the group performing individually and as an ensemble. 242.pilots' ensemble work, as seen in the excerpt, consists of multiple layers of superimposed projected video. The videos move back and forth between abstract and representational imagery, often using blurring and distortion to cause the subjects of the live action portions to dissolve into abstraction. Video images are often fractured, reassembled, and juxtaposed so as to create multilayered collages. The resulting textures are at the center of the work, rather than the individual source videos.
Like many other visual performance artists, 242.pilots have compared their performance experience to the improvisation of music. However, 242.pilots differ from most other contemporary visual performers in that they perform as a visual ensemble; improvisation and collaboration occur not only between visual performers and musicians, but also between the visual performers themselves. Gilje has noted:
242.pilots have been compared to free-jazz groups, operating on the outer fringes of experimental cinema. Using our individual video instruments the three of us respond to and interact with each other's images in a subtle and intuitive way. The images are layered, contrasted, merged and transformed in realtime combining with the improvised soundtrack into an audiovisual experience. [1]
Gilje has also noted some of the difficulties in performing live cinema at a time when audiences are still relatively unfamiliar with live visual improvisation:
At our performance in Bruxelles upon which the dvd is based, a large part of the audience didn't understand that it was created live, but looked at it as an experimental film. From my experience with improvisation there will always be uninteresting parts but usually there are those magic moments which make the whole jam session worthwhile, just as in a music jam. If the total experience of a performance is negative, then it's a bad show, and not related to the genre itself […] [Live video] demands more attention [than live audio], as people aren't so used to watching longer stretches of non-narrative video. Compared to laptop audio performance, at least you don't have to watch the boring guys behind their laptops as you are supposed to look at the video. [2]
---
---
---
Print Text

---
Workdetails
original Title:

242.Pilots: Live in Bruxelles

Date:

2002

Genre: Performance
---
This work is issued in following texts