Concerto Barocco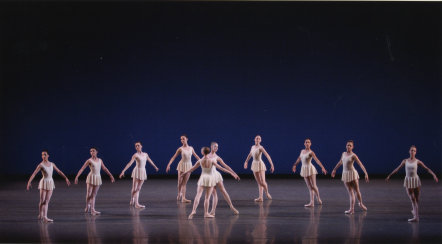 Concerto Barocco (1941) by George Balanchine, music: Johann Sebsation Bach (Double Violin Concerto in D Minor)
© Paul Kolnik, courtesy New York City Ballet
---
Concerto barocco, an interpretation of Johann Sebastian Bach's Concerto for Two Violins and Orchestra in D Minor (BWV 1043; 1718), focuses entirely on the structure of the music. George Balanchine's choreographic method, his unmistakable way of adapting concertante compositions by reacting to their structural principles, is realized differently in each of the three movements: two solo dancers accompanied by a group of eight women take up to two mutually responding solo parts of the violins. The second movement is dominated by a pas de deux by the only male dancer in the piece and one of the two soloists. In the concluding allegro, the entire ensemble takes up the syncopated rhythmic dynamics of the music and transposes them into complex, sometimes counterpoint, cross patterns and rows, until the single voices come together synchronously in the finale.
Concerto barocco is a work of major importance regarding Balanchine's concept of a neoclassical ballet that dispenses with narrative plot in order to fully devote itself to the music. In terms of dance, it is based on the canon of forms from classical ballet, but they are opened and subtly expanded through the slight modification of single poses. The choreography does not duplicate the composition, but rather forms in relation to it that which Balanchine called an optical counterpoint.[1] In its own linear geometrical composition, it structurally takes over the musical development and movement forms.
Balanchine consistently rejected the notion that his ballets were abstract (because they lacked narration), and instead called them concrete[2] in their relation to the human body and music. At the time of its premiere, dancing a composition by Bach still provoked vehement criticism, because, despite the introduction of the symphonic ballet by Léonide Massine in the 1930s, dance interpretation of pure music in contrast to ballet and program music was still regarded as a sacrilege. Balanchine argued that his dance does not superfluously illustrate music; on the contrary, it takes its motivation from the music: the artistic self-reliance of dance can be defined only in relation to music. Balanchine regarded Concerto barocco as a highly important choreographic work, as evidenced by his inclusion of the piece in the opening program for the first appearance of the New York City Ballet on October 11, 1948.
---
---
---
Print Text

---
Workdetails
original Title:

Concerto Barocco

Date:

1941

Genre: Ballet
---
This work is issued in following texts