Variations V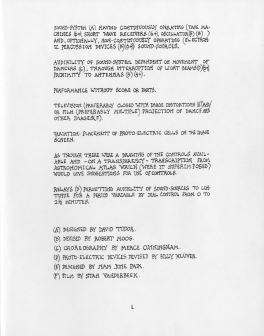 Score of Variations V (1965) by John Cage for the Merce Cunningham Dance Company, Edition Peters EP 6799
© C.F. PETERS Musikverlag Frankfurt Leipzig London New York
---
The project of the Cunningham Dance Company premiered on July 23, 1965, in New York. Thanks to a production by the Norddeutscher Rundfunk and Sverige Radio Television, a 53-minute film version (1966; dir. Arne Arnborn) of the live performance has been preserved. The main elements are dance, projected image and film material, and sound. The score by John Cage, which regulated the interplay of the media, was decided by the toss of a coin, as was frequently the case in works by Merce Cunningham and Cage at this time. At the end it includes 37 remarks on the structure, the components, and the methodology, noted after the first performance and thus, in Cage's words, an a posteriori score[1]: more a protocol of the actions carried out than instructions for actions.
The piece is based on the idea of collage in terms of both the inner-media design and the interaction of dance, sound, and film. Cunningham's choreography dismantles the traditional relationship of dependency between dance and music. The choreographer provocatively calls this a non-relationship.[2] Nevertheless, the movement functions as sound-generator and rhythm-determiner in a relationship to the sound and image of the performance that is at once causal and arbitrary. The sound artists mixing live ultimately retain control over this relationship. The soundscape changes depending on the arrangement of the technical sound and control signal generators (e.g., tape recorders, radio programs, antennas, photo cells, oscillators). For this capability, Cage developed a system together with David Tudor, which enables the movement to influence the sound at two levels: photo cells distributed in the space and directed to the stage lighting serve as light barriers. Sounds are triggered when the dancers cross these barriers. There is a similar situation with a network of antennas placed on the stage, which control sounds when dancers approach them. In addition, almost all of the stage set elements, such as table, chairs, a bicycle, or a plant, are electronically networked and react acoustically to every activation by the dancers. The movement material, which is interrupted by stops in fixed poses, integrates abstract dance sequences as well as everyday gestures and sequences of movements that seem like gymnastic or acrobatic exercises.
The seven dancers in the film version, including Cunningham himself and Carolyn Brown, wear everyday clothing and simple training clothes. Film and slide projectors are used to project the most diverse image material on the back wall of the stage, on screens, and on the bodies of the dancers. The moving images show partly alienated and distorted cartoon sequences, commercials, scenes from feature films, and documentary material (such as the Americans landing on the moon), which were manipulated and collaged by Stan VanDerBeek and Nam June Paik. The film material is also influenced by the motion sensors. As on all the other levels, overlaps and breaks are used. The dance manipulates all the elements of the surrounding media-constructed, audiovisual space.
---
---
---
Print Text

---
---
This work is issued in following texts