Carriage Discreteness
Yvonne Rainer (Creator)
9 Evenings – Theater and Engineering (Platform)
Workdetails
original Title:

Carriage Discreteness

Date:

1966

Genre:

Performance
---
Work description by
Carriage Discreteness—Yvonne Rainer's contribution to the event series 9 Evenings: Theatre and Engineering organized by Experiments in Art and Technology (E.A.T.) and shown in 1966 in the 69th Regiment Armory—is an example of the analogies between notation systems and choreographic scores.
Roughly speaking, Carriage Discreteness consisted of two systems: first, each dancer was equipped with a walkie-talkie device to be worn on his or her wrist, by means of which he or she received instructions. The types and sequences of movement to be carried out by the performers were selected more or less spontaneously from a predetermined list of possibilities. In parallel, a media choreography was controlled electronically by a Theater Electronic Environmental Module (TEEM) system, in this case specifically by a program drum, which as a set of relays triggered events at fixed intervals. These media choreographies consisted of a compilation of movie fragments, slide projections, light changes, TV-monitored close-ups of details in the dancer-proper, tape-recorded monologues and dialogues, and various photochemical phenomena, several involving ultra-violet light.[1]
The typescript that features in Rainer's Work—a documentation of her scores—describes the construction of the piece: A TAPE RECORDED CONVERSATION; AND AUTOMATED MOVEMENT OF A BALLOON, PLEXIGLASS GLOBE, LUCITE ROD (ILLUMINATED), BLACK-LIT MATERIAL, GARBAGE PAIL, TIN CAN, COLLAPSIBLE WOOD PARTITION; AND CUED MOVEMENT OF A MAN IN SWING AND 4 PEOPLE IN THE AUDIENCE, 2 OF THEM MAKING SOUNDS THROUGH BULL HORNS.[2]
Carriage Discreteness rested on a combination of the human being and the machine, which incorporated essential parameters of that artistic practice made manifest in John Cage's chance compositions. Rainer wrote that Cage spent a lot of time explaining to the members of the Judson Dance Theater the chance scores he had used for Fontana Mix and other pieces.[3]
all footnotes
see aswell
---
---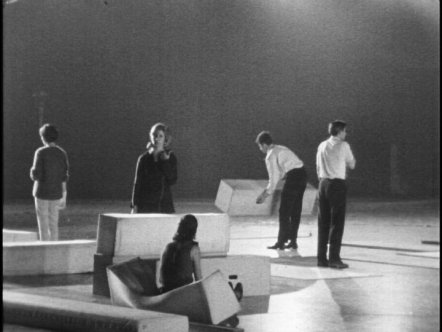 Still from Carriage Discreteness (1966) by Yvonne Rainer
Production: Billy Klüver, camera: Alfons Schilling et al, editing: Daniel Langlois foundation for Art, Science, and Technology (2006)
© E.A.T. - Experiments in Art and Technology, courtesy FDL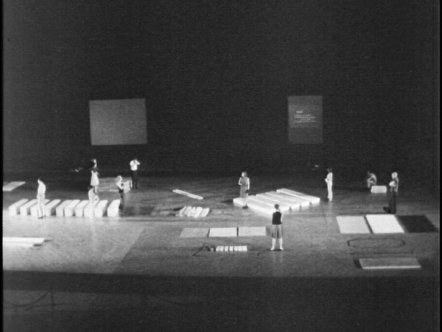 Still from Carriage Discreteness (1966) by Yvonne Rainer
Production: Billy Klüver, camera: Alfons Schilling et al, editing: Daniel Langlois foundation for Art, Science, and Technology (2006)
© E.A.T. - Experiments in Art and Technology, courtesy FDL
Still from Carriage Discreteness (1966) by Yvonne Rainer
Production: Billy Klüver, camera: Alfons Schilling et al, editing: Daniel Langlois foundation for Art, Science, and Technology (2006)
© E.A.T. - Experiments in Art and Technology, courtesy FDL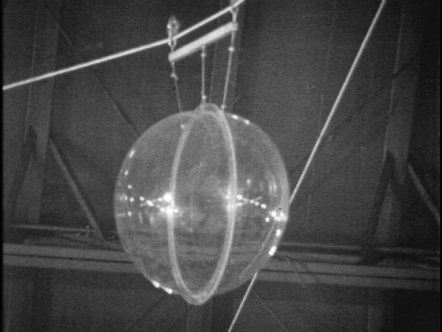 Still from Carriage Discreteness (1966) by Yvonne Rainer
Production: Billy Klüver, camera: Alfons Schilling et al, editing: Daniel Langlois foundation for Art, Science, and Technology (2006)
© E.A.T. - Experiments in Art and Technology, courtesy FDL